Current Cell Phone Accessories Market And The Money You Can Make
Data show that consumers spend about $60 per device to accessorize their smartphones, which includes products such as protective cases, screen protectors, and flip covers.
A 2012 study on smartphone case segmentation reports that 3 in 4 smartphone owners have a protective case for their device, with nearly 87% of those consumers being iPhone users (npd.com 2013).
Consumers who chose not to use protective cases stated several reasons for opting to go case-free, including:
• Too much added bulk
• Preferring the look of their phone without a case
• They were not worried about dropping their phone
• Cases were too expensive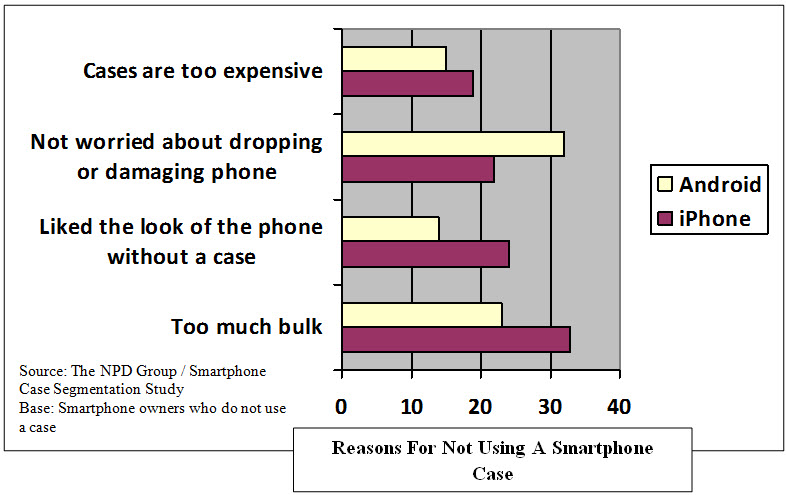 Protective cases are by far the most popular cell phone accessory, followed by the purchase of headphones, hands-free headsets, batteries and chargers, and screen protectors respectively (Statista 2014).
With smartphones being a relatively substantial investment, it stands to reason that consumers will want to invest in protecting their device from harm that can result in everyday use, such as accidentally dropping the phone on cement or tile, water damage, and cracked screens.
Yet, consumers differ greatly in their motivations for buying particular protective casings, and have been segmented into the following buyer categories:
• Quality Protector: Ultimate goal is to preserve their smartphone
• Fashionista: Considers the style/fashion of cases to be of paramount importance
• Cute and Cheap: Similar to Fashionistas, but considerably more sensitive to cost
• Basic Protector: Tends to be the least selective and doesn't put much thought into the case selection process
• Savvy Enthusiast: Overly enthusiastic about cases and technology, in general
(Source: npd.com 2013)
Knowing this, cell phone accessory developers are able to apply their understanding of consumers' buying habits to create auxiliary products to align with buyers needs.
The Selfie Loop is not only designed to appeal to smartphone owners' desires for a cost effective quality protector, but also takes advantage of the "Fasionista," "Cute and Cheap," and "Basic Protector" buying habits while integrating massive marketing and branding opportunities for companies and distributors.
Because of its cost-effective and low-profile design, The Selfie Loop is one of the only smartphone add-ons which is able of capitalizing on consumers' need to protect their phone investments, while also appealing to the buying habits of the more cost-conscious and trendy shopper.
The Selfie Loop also offers unprecedented marketing, branding, and distribution integration, making this product the most unique and distinguishable protective add-on in the industry.
Questions, bulk orders, retail displays call or text 858-692-9461
The Selfie Loop materials are sourced, assembled and packaged here in the great United States of America.
For more details, contact Michael Senoff at JS&M Sales & Marketing Inc. 858-692-9461