Q&A
Please Download SelfieLoop White Paper for further market trends and how the Selfie Loop is positioned for growth.
Got a question that isn't here? We'd love to hear from you. Write to us at senoff.michael@gmail.com
Q: Will The Selfie Loop work on my phone?
Yes! If your phone has 2 inches of relatively flat space on the back, then yes, The Selfie Loop will work without any problem. There are a couple of unusual phones that don't have the necessary space due to a 3D camera or an opening for the battery cover. If you're in doubt of whether or not you'll have enough space, measure. But most likely the answer is yes.
JS&M Sales & Marketing Inc.
4978 Gaylord Drive
San Diego, CA 92117
Q: Is it easy to attach?
Yes! Simply follow the directions below.
HOW TO USE: We recommend sticking the Selfie Loop to a rigid, smooth, and flat surface. Textured, silicone, rough, or flexible cases may not bond or perform as well with the Selfie Loop, causing greater risk of damage to your phone in the event that the Smart Loop becomes loose.
PLACEMENT: Decide where on your device to place your Selfie Loop. The majority of users choose the center of their device.
If you use your touch screen with your right hand, place the top of the loop facing left. Lefties will want the top of the loop facing to the right.
CLEAN: Clean the back of your phone for optimal stick. Oils, lotions, and dust will lessen the grip of your stick pad. Use an alcohol wipe or hand sanitizer to clean the two inch diameter area where you want to place your Selfie Loop. Allow time for the area to completely dry before your attach the loop.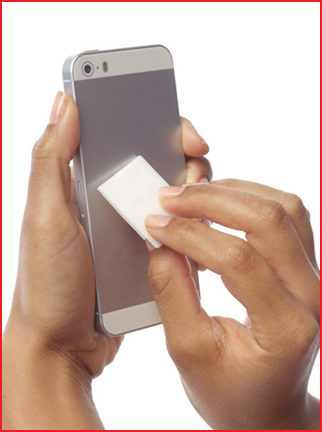 PEEL: Peel the blue protective liner away from the Selfie Loop, exposing the Senoff Stick Pad. Do not touch the stick pad.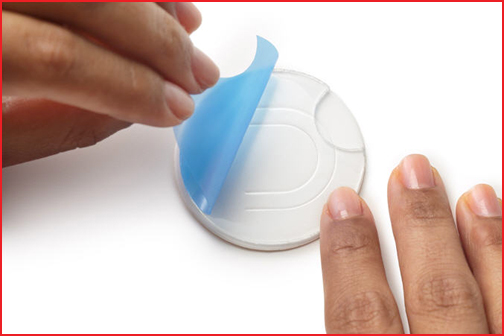 STICK: Orient the loop so that the loop runs top-to-bottom of your phone, not across. Some people like to place the loop at an angle. We recommend straight up and down for the most comfortable grip.
Position your Selfie Loop over the desired area, then press and hold for 10 to 20 seconds to secure.
The Selfie Stick is an very interesting material. It's flexible, clear, strong, removable, repositionable and retains its sticky properties use after use.
Unlike VHB, permanent tape or glue, Senoff Stick won't damage your device or case. But it's strong enough to hold your Senoff Loop securely to your device.
The Selfie Stick Pad adhesive will be at 100% in three hours. If you choose to use the Senoff Loop before the stick pad becomes 100% effective, please do so with care.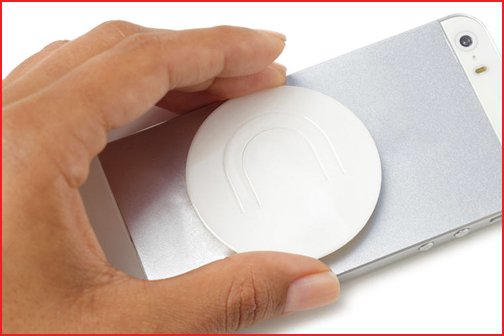 PRESS: Press down on the outer side of the loop over the moon cut out to reveal the U-Shaped Loop edge.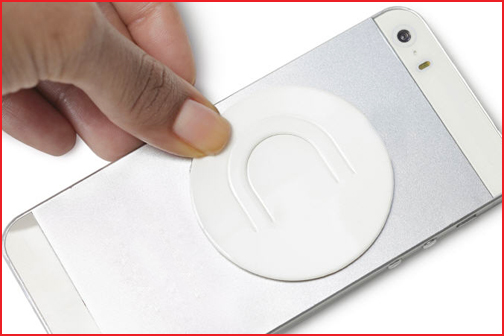 LIFT: Pull the U-Shaped Loop up and insert your finger. Or for a looser fit, simply bend the loop all the way back, making the loop looser. You control how tight you want the loop on your finger. Fold the loop down flat when not in use. The Senoff Stick pad will hold the loop securely in place but not so securely that you can't get the loop out and up again.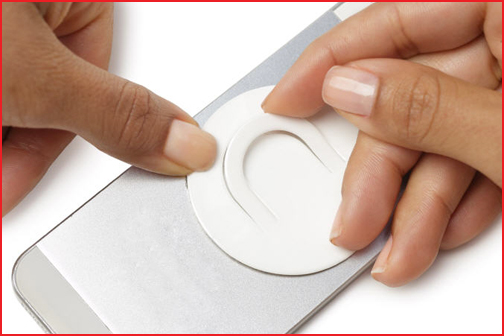 BEND: Bend the loop all the way back SLOWLY from the crest of the loop.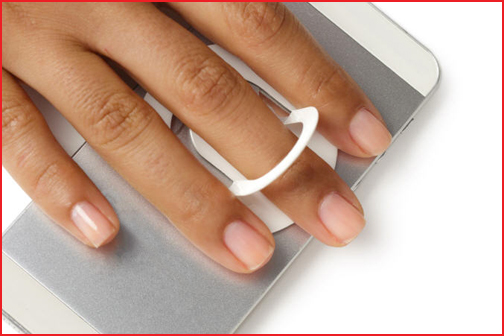 USE: Insert your first or second finger into the loop
Enjoy the ease and comfort of using your touch screen with one hand.
Q:Can I use The Senoff Loop on my Nook or Kindle?
Yes. If you like to read on an e-reader but find that your hand is cramping up before you finish a chapter, you'll love The Senoff Loop. The Senoff Loop lets you easily hold a tablet when reading in bed or laying on your back. For the larger e-readers, use two Senoff Loops, one on each side, one for each hand.
Q:Where are The Senoff Loop products sold?
Senoff loops are sold in retail and wholesale environments. They are used a promotional give-a-ways and more. If you are interested in private labeling, let us know and we can make it happen.
Q:Where is The Senoff Loop made?
The Senoff Loop is proudly made in San Diego, California, USA. Let's bring back American workers. None of the components or manufacturing is done overseas. Everything from the printing, to the cutting, graphics, packaging, and materials are all done in the USA. Keeping our manufacturing in the USA allows us to give you a quality product that works!
Q:How long does it take to ship?
The Senoff Loops ordered within the continental USA will be sent via USPS mail unless other arrangements are made. Delivery is typically 2-3 days in the USA, and 7 to 10 days for international orders.
If for some reason you do not receive your Senoff Loop order as quickly as you had expected, please don't hesitate to get in touch with us at: help@senoffloop.com
Q:How do I remove it if I need to? Is The Senoff Loop re-usable?
You can remove the Senoff Loop by pulling very slowly from any side of the loop.
Do not pull on the flip out loop or you may break it.
If you pull the stick pad too fast, you risk tearing it. Take your time.
Once the stick pad is removed, you can reposition it to your phone or phone case at the angle you like best.
The Senoff Loop sticky pad can be rinsed under warm water to recharge the stick.
Do not use soap, detergents, oils, or lotions to wash your stick pad or it will lose its aggressive stick capabilities and you'll need to order replacement pads.
Re-use the stick pad over and over.
Additional stick pads can be purchased at our order page.
Q:How many times can I lift and close the loop before it breaks?
The Senoff Loop is made by a very interesting combination of materials. Don't mistake this as paper. It's NOT paper. It's taken years and research and design to come up with a product that is long lasting and works. We've had the ring lab tested and certified to open and close without any breakage up to 3000 times offering users up to a year of worry free use.
Q:Can I license or private label your Senoff Loops.
Yes! You may sell, license or private label our invention.
Please consider the reasons why.
* Ground floor opportunity and nothing exist like this on the market
* You may have buyer contacts for this product already
* Low cost and proprietary manufacturing process. (difficult & expensive to copy)
* Full color high resolution imprinting, logo and branding options- full bleed.
* Tested invention that really works for anyone who uses a mobile device.
* Flexible packaging / easy low cost assembly / private label as your own product
* Light weight – mails with 2 page marketing message for under an once (1 stamp).
* High perceived value – a 3 pack can sell for up to $20 each.
* Fast production and ship time * We control 100% rights to this product.
* Intellectual property protection – we have five patent applications in place.
* All materials, manufacturing in San Diego, California – No Cheap China!
* We can license our manufacturing and material processes globally if needed.
You can brand with your own packaging, name and logo.
You'll own and control your own product, packaging and assembly or we can do it for you.
All your marketing and sales efforts lead back to you.
We can work with you to create the loops of your dreams.
We print full color photo quality printing on each Senoff Loop.
We'll include your logo, brand web site and more.
For details, contact Michael Senoff 858-692-9461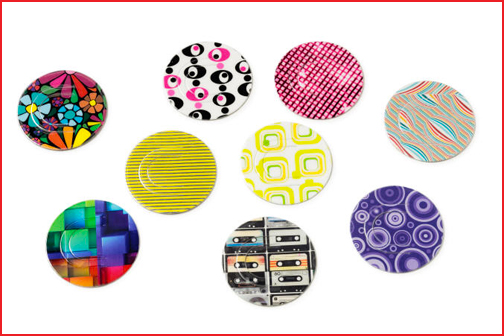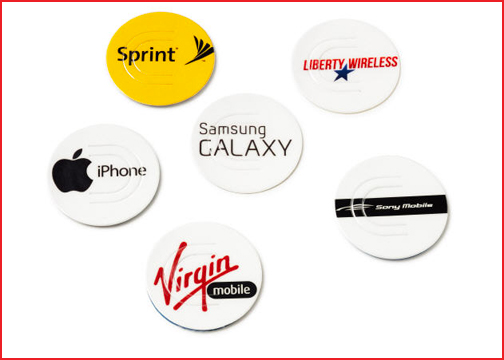 Q: How much does the Selfie Loop cost?
Dealer and Distributor Pricing
Contact us or give us a call and we'll help you get the best products for your store. Call Michael Senoff at 858-692-9461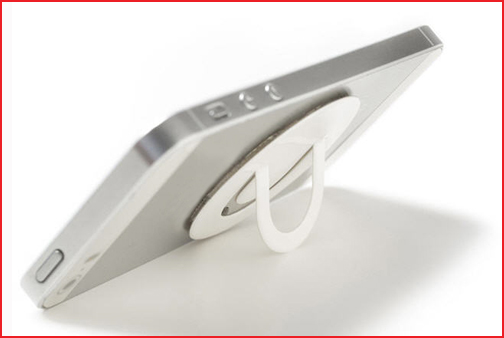 Q:What other details do I need to know about ordering Branded Senoff Loops with my own company logo and contact information?
We can make your cell phone loops for your brand. We private lable for retail, wholesale and more. We'll print, asseble, package and ship your orders for you. Here are the details below.
Do You Charge For Proofs?
There is no charge for proofs.
How Much Is The Set-up charge
Set-up charge is only $40 net. Set-up includes standard stock design backer card and front and back sides of the loop.
Die Charges There are die charges for custom shapes other than our standard 2 inch circle. Call for a quote Michael Senoff 858-692-9461.
Minimum Orders Minimum Orders for custom die shapes are 5000 units.
Regular loop minimum is 250 pieces per design.
Colors All loops include unlimited full color digital process printing. Pantone matching is free. No charge for color changes throughout your order. Example: 50 with blue background, 50 with white background, and 100 with a red background.
Packaging All carded loop items are individually booger glued to a 4X6 inch backer card. Backer cards can be poly-bagged for an additional $0.20 per unit. A large assortment of optional packaging is available, including boxes, bags, and retail displays for an additional charge.
Country of origin is USA and will be marked on all backer cards for all products. Loop may be ordered in bulk without backer cards.
Bulk Loop Orders
All bulk loop orders are sent unassembled. The printed plastic 2 inch disk will be sent separately from the 2 inch adhesive stick pad. Pads and Loops will be sent in units of 500 per bag. Instructions will be sent for information on fastest assembly methods.
For stick pad assembly, add an additional $0.12 net per unit.
Artwork Camera ready preferred. Artwork can be created by our in-house art department at $45 per hour after a purchase order is received. PMS color matching available for free of charge. Artwork formats accepted: ai (CS2), eps (CS2), cdr (12.0), pdf, psd (CS2), gif, bmp, jpg. (PC preferred).
Preproduction Samples Preproduction samples are available with a $95.00 net deposit plus any applicable setup charges and 1-2 week delivery. Upon approval of sample, $95.00 net is applied to the order and an additional 1 1/2-2 1/2 weeks is required to complete production on orders under 2500 units. For orders more than 2500 units, add an additional 1 to 2 weeks.
Production Time Normal production time is 2 1/2 – 3 1/2 weeks after artwork approval. Many orders can be rushed please call 858-692-9461 to discuss. A rush charge will be incurred based on quantity and in hands date. Authorization for overnight shipping will be required to meet your in hands date.
Ordering Confirmation All orders are confirmed in writing with your PO #. Please refer to your PO when inquiring. When reordering, please refer to prior purchase order number if available. Orders submitted via telephone are not valid and must be followed by a written purchase order. All purchase orders may be emailed to senoff.michael@gmail.com or michael@senoffloop.com or faxed to 858-274-2579.
Shipping All orders are shipped via UPS or FedEx unless otherwise arranged, F.O.B. California. A $6.50 handling charge per box is applied to every order shipped. We cannot be held accountable for carrier delays.
For drop shipping or split shipments, add $5 per location plus freight / handling. A list of addresses is required with purchase order. Add $6.50 per box for 3rd party shipping. If shipping via USPS, an additional $10 charge will be applied.
Terms All orders must be prepaid unless qualified for a credit account. Copyright Items We do not assume any liability for trademark or copyright infringements.
Quotations All quoted prices are subject to change after quotation, based on artwork requirements. Prices are valid for 30 days after quotation date. Only quotes done in writing will be honored. Additional random samples are available upon request. A UPS or FedEx account number is required for rush samples that cannot be sent via standard USPS. All prices subject to change without notice.
Cancellations & Corrections Any cancellation of an order in progress will be subject to all costs incurred to that date. Any change must be in writing. If artwork has been created by our Art Department before cancellation, a $40.00 (P) charge will be incurred.
Incorrect Shipping Address on Purchase Order Customer is responsible for all surcharges from carrier if a wrong address is specified on your purchase order.
Returns Goods should be inspected upon receipt. Any claims or discrepancies must be made within 7 days of receipt of merchandise. All merchandise must be returned for credit to JS&M Sales & Marketing Inc. Attn: Production Department 4978 Gaylord Drive San Diego, CA 92117
Accepted Credit Cards: Most major credit cards are accepted. PayPal is accepted. The PayPal address is senoff.michael@gmail.com Surcharges may be applied on certain orders due to high processing rates.
Country of Origin All items are manufactured in the USA and will have the country of origin marking in accordance with US Customs regulations. Certain circumstances require a country of origin sticker or stamp on the product. All items made by JS&M Sales and Marketing are manufactured in the USA.
Questions, samples, comments? Call or text Michael Senoff 858-692-9461 or email senoff.michael@gmail.com
Q:Can I have my art depatment put together our web site and or product
Art File Digital Web Ready Photos
If you're a graphic artist or you have your own in-house graphics team, you are free to use any of our images to create our own promotional materials, virtuals, catalog art, and more. All images are web ready. Feel free to edit the apple logo off the phone image. For print-ready high resolution tif. files, email senoff.michael@gmail.com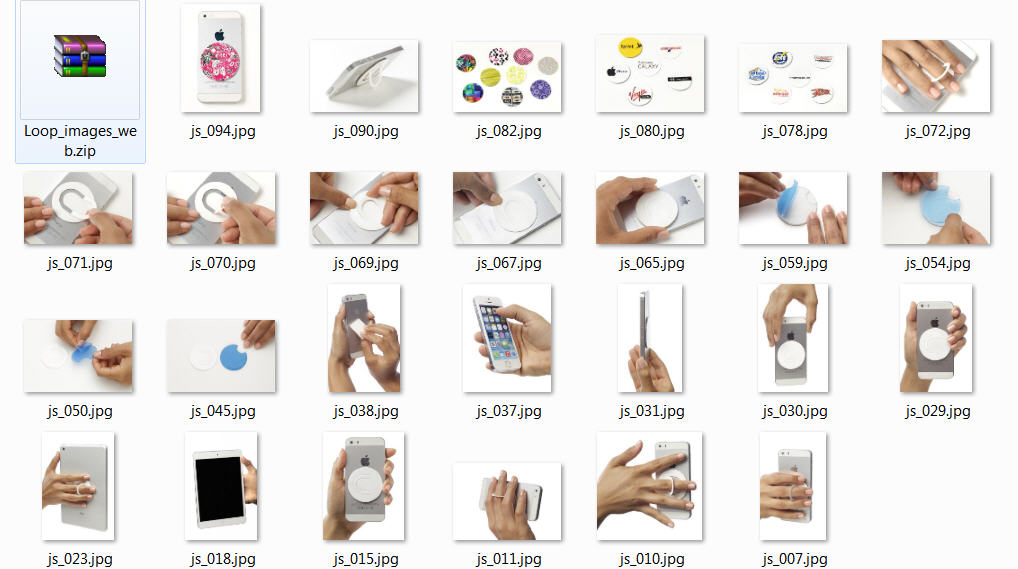 Note that all photos below are unbranded and will NOT lead back to me. You are free to modify the images for your own use.
Right click to download images
Vector illistration image downloads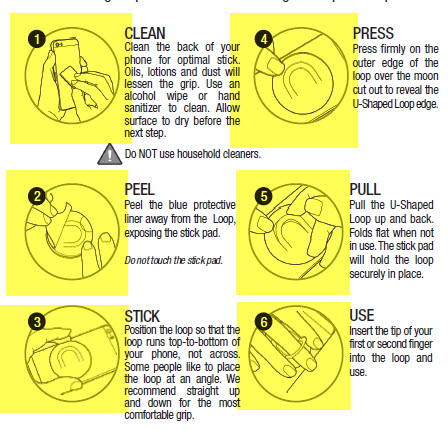 I've included a zip file of the vector images of the illistrations seen in yelloe for you to use on your own packaging or web site.
Right click to download vector illistrations for the application directions for using the loop.