The Selfie Loop is an accessory and preemptive protection add-on that will work with nearly all smartphones and personal electronic devices.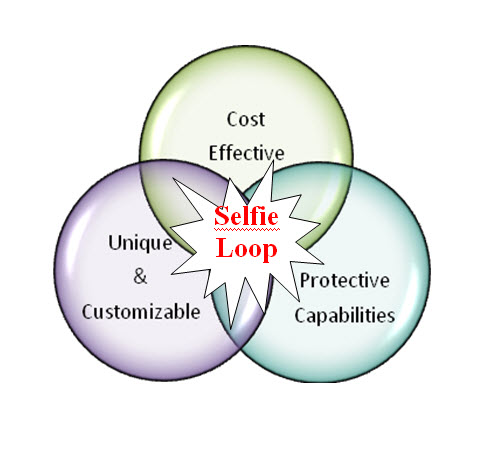 And unlike many other mobile accessories on the market, the Selfie Loop offers unprecedented promotional and marketing opportunities, as well as the chance for individual consumers to customize the look of their devices. In short, the Selfie Loop is positioned in the marketing sweet-spot of cost-effectiveness, protective/safety functionality, and user customizability.
Key Benefits of the Selfie Loop
• Safety First: Other protective cases and screen protectors are made to shield phones and PEDs from damage after they've been dropped.
The Selfie Loop stops the drop altogether as a preemptive damage solution that is both stylish, on price-point, and without the bulk.
Furthermore, the Flip-Up Safety Loop is designed with users' safety in mind.
In the event that the smartphone or PED is forcefully removed from the user's hands, the safety loop will break and disengage from the phone in order to prevent further injury.
No other phone accessory can make that claim.
• Enables Full-Functionality: With over 80% of smartphone owners using their devices for activities that demand a reliable grip with either one or both hands, users need a way to engage with their devices without added inconveniences.
The Selfie Loop allows users full-functionality of their phones by simply slipping a finger through the sturdy Safety Loop.
Users will be able to text, scroll, take pictures, read, and play games without having to worry about dropping their phone due to mishandling or simple hand fatigue.
With the Selfie Loop, smartphone owners will be able to have complete control of their screens with just one hand.
• Branding and Promotional Options: Unlike most mobile accessories on the market, the Selfie Loop can be customized and branded for promotions using high quality, full-color, and high-resolution printing technology.
Additionally, the Selfie Loop can be strategically designed to drive marketing campaigns via the creation of collector's items.
• Ready For The Future Of Phones:
The styles of phones are always being updated, and it's important to invest in products that will change with your phone upgrade and not become obsolete as soon as the next version is released.
With curved backs and flexible screens as the next new thing in smartphone designs, consumers are going to need a way to ensure a tight grip on their devices, and that's where the Selfie Loop comes in.
The 2″ disk is flexible enough to move and mold to the curve of the phones, all while providing users with exceptional functionality with just one hand.
Other similar products are too rigid to work with the curved back of some smartphone devices, making them completely ineffectual.
The Selfie Loop's flexible material and strong adhesive make it possible for the disk to work with phones and PEDs that don't have a completely flat back.
• Other Major Benefits: The Selfie Loop offers a number of other advantages to both distributors and buyers, which makes this simple add-on one of the most competitive cell phone accessories out there.
• Light-weight and low-profile
• Cost-effective for buyers, distributors, and consumers
• Waterproof, washable, reusable, removable
• Full-color high resolution printing
• Completely manufactured in America
• Can also work as a stand when the loop is in the active position
• Special glue that is effective and removable
• Is durable and reliable, yet also works as a consumable product
The Selfie Loop also offers unprecedented marketing, branding, and distribution integration, making this product the most unique and distinguishable protective add-on in the industry.
Questions, bulk orders, retail displays call or text 858-692-9461
The Selfie Loop materials are sourced, assembled and packaged here in the great United States of America.
For more details, contact Michael Senoff at JS&M Sales & Marketing Inc. 858-692-9461